A Non-Traditional Gift For A Dog Lover
With the holiday season fast approaching, many of us have begun feeling the pressure that comes with finding meaningful gifts for our loved ones. While finding the right gift can be tricky, Trail Breaker Kennel offers the perfect gift idea for the animal lover in your life: their very own Alaskan sled dog sponsorship! 
Sled dog sponsorships serve as unique gifts for animal lovers and dog sledding enthusiasts alike. We offer a variety of sponsorship options to accommodate your preferences and your budget.
Why Should I Sponsor a Sled Dog? 
Not only do sled dog sponsorships make great gifts, but they help provide our team of huskies the love, care, and training they deserve. When you sponsor a sled dog at Trail Breaker Kennel, you
Help Us Care, Support, and Train Our Dogs
Sponsorships directly support the care and training of our incredible dogs by helping us fund the costs of food, vet care, training, and more. By gifting a sled dog sponsorship, you play a direct role in our dogs' success as sled dogs and their excellent quality of life. 
Get a Gift That Keeps on Giving Throughout Sledding Season
The recipient of your sled dog sponsorship will receive "pup-date" emails throughout the winter season, race updates, and recap emails, as well as a holiday gift delivered to their home! 
Support Deep-Rooted Alaskan Culture
Dog sledding and racing is a deep-rooted part of Alaskan history and culture. When you sponsor a sled dog, you help us preserve and promote this incredible tradition.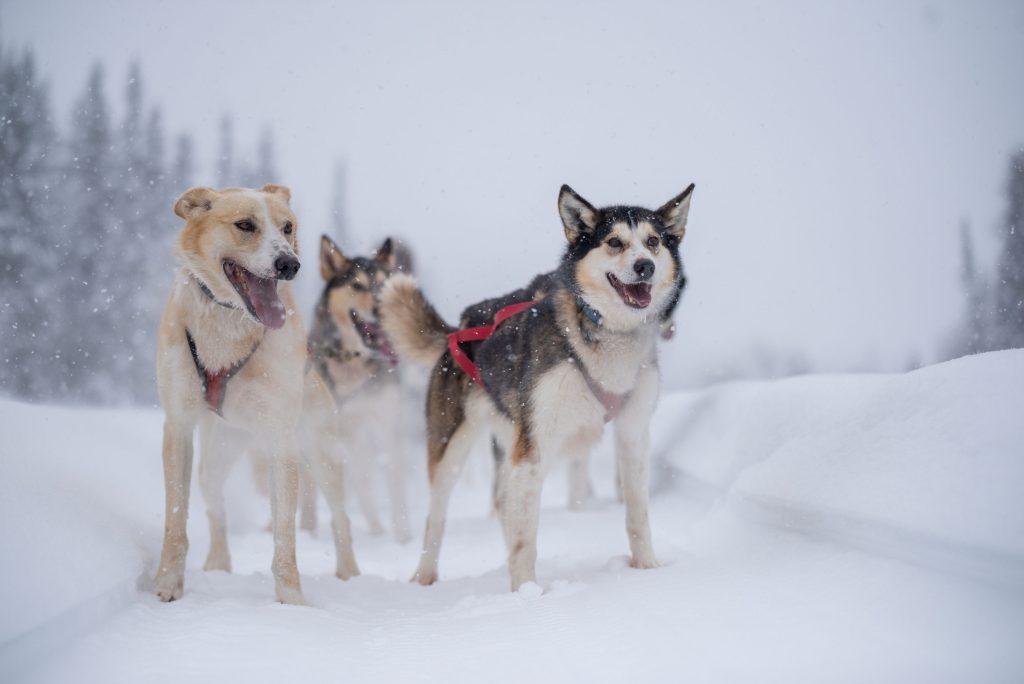 What Will My Loved One Receive? 
Once you find the dog or puppy you'd like to sponsor; you can choose between gifting a full sponsorship or a bootie sponsorship. 
Full Sponsorships Include 
 Four "pup-date" emails throughout the winter season (September – April) every other month, keeping you informed about your dog's progress

Your name or business name published on the Trailbreaker Kennel website as your dog's sponsor

A Christmas gift!

Personalized competition update and recap emails
Bootie Sponsorships Include
A training update on your sponsored dog, providing you with insights into their progress and development

A personalized training/race recap

Your name or business name published on the Trailbreaker Kennel website as your dog's sponsor
Not Ready to Sponsor A Dog? Gift a Kennel or Team Sponsorship! 
Kennel Sponsorship
For those who want to gift a deeper connection with the Trailbreaker Kennel team, a kennel sponsorship is the perfect choice! Perks of a kennel sponsorship include
Bi-monthly updates straight from the trainers, offering a behind-the-scenes look at life at the kennel

The opportunity to have your business name featured on the Trailbreaker Kennel website and gear (if applicable)
Team Sponsorship
If you're looking for a more budget-friendly option, team sponsorships are available for $25, $50, and $75. By gifting this sponsorship, your loved one will be considered an integral part of the Trail Breaker Kennel Team! Benefits of team sponsorship include:
An end-of-season recap in April giving you a comprehensive overview of the team's achievements and experiences.

Your name is listed as part of the team on the Trailbreaker Kennel website, highlighting your support and involvement.
Dog Sled Rides Make Great Gifts, Too!
Along with dog sponsorships, Alaskan dog sled tours are fantastic gifts for dog lovers!  Visit us in Alaska, and meet the huskies for yourself! Trail Breaker Kennel is a mile drive from the Fairbanks International Airport and is located 15 minutes from downtown Fairbanks, Alaska. Book your dog sledding tour with us!