Summer Fun With the Family in Fairbanks, Alaska
Are you looking for a fun and affordable, family-friendly vacation this summer? Then Fairbanks, Alaska, is the perfect place to visit! This city is filled with exciting activities and tours to keep you and your family entertained throughout your stay.
Plenty of things to do with the family in Fairbanks, from exploring the natural wonders of Alaska to visiting some of the most popular tourist attractions in town. There is something for everyone. Fairbanks, Alaska, has much to offer in the summertime, with its long daylight hours and warm weather.
Family Friendly Activities in Fairbanks
Visit Denali National Park
Denali National Park is near Fairbanks and is a must-visit destination for nature enthusiasts. The drive takes around 2 hours and 15 minutes to cover a distance of 120 miles. Fairbanks is much closer to Denali National Park than Anchorage, which is 240 miles away. The park offers hiking, wildlife viewing, and stunning views of Mount Denali (the highest mountain in North America).
Arguably the summertime, particularly June through August, are some of the best months to visit Denali National Park, with warmer temperatures and plenty of daylight.
Take a Riverboat Discovery Tour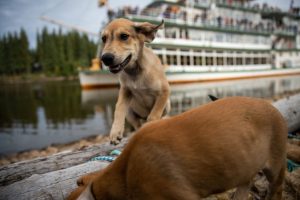 Riverboat Discovery offers a cruise on the Chena and Tanana Rivers, where you can learn about the history and culture of Alaska and see some of the region's wildlife. The 3-hour Alaskan tour gives visitors a chance to meet a family living off the rivers of this great state for more than five generations. Immerse yourself in the heart of Alaska.
Tours are appropriate for all ages! Although reservations are not required, they are highly recommended. Plan on making reservations as soon as you know the date you would like to go on a tour.
See the Midnight Sun
Fairbanks, Alaska, experiences 24 hours of daylight during the summer and 24 hours of darkness during the winter months due to its location within the Arctic Circle. The Arctic Circle is an imaginary line that circles the Earth at approximately 66.5 degrees latitude. This line marks the northernmost point on Earth where the sun can still be seen at least once a year during the summer solstice. In Fairbanks, Alaska, located at approximately 64 degrees latitude, the sun does not set below the horizon during the summer months.
The phenomenon of 24 hours of daylight during summer is known as the Midnight Sun. This occurs because the Earth's axis is tilted towards the sun during the summer solstice, so the Northern Hemisphere receives more daylight hours. You have to experience it for yourself.
Visit Pioneer Park
Right in the middle of Fairbanks, Pioneer Park is a 44-acre park with a historic theme between Airport Way and the Chena River bike path. Pioneer Park is a family-friendly destination with historical exhibits, live performances, shopping, and dining. Pioneer Park is open during the summer, from Memorial Day through Labor Day. 
Explore Creamer's Field
Creamer's Field is a historic farmstead turned into a nature preserve. Operating out of the Farmhouse Visitor Center, the original Creamer family farmhouse. From interactive displays to educational programs, these exhibits provide an immersive look into our natural world and agricultural heritage.
Attend the Tanana Valley State Fair
The Tanana Valley State Fair is conveniently located on the edge of Fairbanks, Alaska. Founded in 1924, the Tanana Valley State Fair is the oldest in Alaska. The Tanana Valley State Fair is held annually in August and offers carnival rides, entertainment, and exhibits celebrating Alaska's agricultural heritage.
Every year this fair is the perfect place for families to get together – there's something for everyone. Events include livestock, games, rides, an amusement park, horse shows, art and crafts, giant cabbages, contests, and other special events.
A Dog Sledding Experience in the Summer
Join Trail Breaker Kennel for a summer tour! Take a summer sled dog cart ride with our sled dogs during a once-in-a-lifetime Alaskan experience. This tour is perfect for those wanting to see sled dogs in action and immerse themselves in the world of mushers in Alaska without so many layers of clothing or snow on the ground.
Trail Breaker also has the Husky Pup Beer Garden for your family to enjoy if you are looking for a slower pace. A beer garden pass includes a flight of 4 local Alaskan brews, a short presentation on the lifestyle of modern dog mushing, and cuddle sessions with a bunch of super cute sled dog puppies – it sounds like a dream come true!
Plan Your Alaskan Summer Vacation
Alaska is perfect for families looking for an adventure, from the Trail Breaker Kennel in Fairbanks to the many outdoor activities. With its stunning landscapes and unique wildlife, it's sure to be a memorable trip that your family will never forget.
Overall, there are plenty of things to do with the family in Fairbanks during summer. Take advantage of the long daylight hours and warm weather to explore the city and its surroundings. Your family will enjoy Fairbanks, Alaska, and with most activities a short drive from the Fairbanks Airport, you can't go wrong!