Race Season Is Underway
We are excited for the onset of race season at Trail Breaker Kennel. Time sure flies when you're having fun! We are past the darkest winter time here in Fairbanks, Alaska, and we are enjoying having a bit more daylight (we are rapidly gaining daylight after the Winter Solstice on December 21st, 2022) and more snow to play around in!
We have been staying very busy with winter tours but also, of course, with training our amazing four legged athletes! With about 20 dogs in our race team, varying from rookies to seasoned race dogs, we have had so much fun with the training this season. Our youngest pack members, the Slim/Chiska litter, including Farmer, Indy, Cushman, Old Steese, and Dale, have been learning the ropes of long-distance training, and they're doing really well! We are so proud of the sled dogs they are developing into.
In fact, this litter (except Cushman – he's sitting this one out due to being in recovery mode from a minor injury and neuter) will be heading out on the Yukon Quest trail to run the 80-mile race.
Meet Trail Breakers' Mushers & Their Team
Trail Breaker kennel will have two teams in the Yukon Quest – one with our outstanding mushing guide and reservations, Katrina Handler, and one team with a close friend of the TBK family, Abby Klager. We want to take the opportunity to introduce and highlight these great humans to you. We hope you are as excited as we are to follow along on their race this coming weekend!
Katrina Handler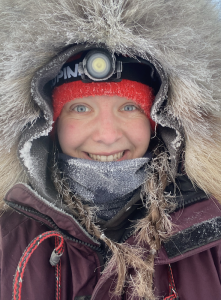 Katrina was born in Austria to an Austrian and Lithuanian, who then moved to Washington state when she was little. She's been obsessed with animals for as long as she can remember and started working with wild animals at a Wildlife Rescue when she was 14. Wanting to move out of Washington, Katrina started looking for jobs in other states and ended up coming to Alaska. In 2017, she got a job working with sled dogs in Fairbanks, and the rest is history!
History with Trail Breaker Kennel: Katrina has been working at TBK since summer of 2018
Years Mushing: 6
Race History: Valley Funally, 4 dryland races.
Fun Random Fact: Katrina went to school for photography and still practices film photography.
Most exciting thing about the upcoming race: To be out there with so many other first-timers and for her family to see what sled dog racing is about.
Dogs in Katrina's team: Bowie, Jones, Charles, Nora, Felix, Jibe, Bolt, Ansel, Nelson, and Malcolm.

Abby Klager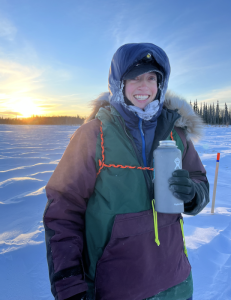 Abby grew up in the midwest. One day she was studying hard in a coffee shop and not enjoying it very much. She started daydreaming about her favorite things; dogs, snow, and playing outside. She had a eureka moment realizing that those things added together were dog mushing. Things got even more exciting when she realized there are a whole bunch of people actually running sled dogs, and Alaska was apparently the place to do it. She first came to Alaska in 2013 and realized how many other ways Alaska is amazing. She moved to Anchorage in 2015, then to Bethel in 2018, and to Fairbanks in 2021, where she hopes actually to stick around.
History with Trail Breaker Kennel: This is Abby's second year at TBK. Unfortunately, she isn't here full-time, but she comes out whenever she can to hang out with the dogs, do random projects, run dogs, or just enjoy the company of the awesome crew.
Years mushing: Abby has been hopping on a dogsled at every chance since 2014, but this is her 5th winter of being able to run dogs consistently.
Race history: Bethel Season Opener in 2018, 2020 Akiak Dash
Most exciting thing about the upcoming race: Watching the two years growing up from little monsters into hard working sled dogs
Dogs in Abby's team: Two year olds Farmer, Indy, Old Steese, and Dale, their dad, Slim, half siblings Mofarah and Simone, and friends Frank, Wookie, and Trout.

You can learn more about our teams and sponsorship opportunities!
Have Your Own Mushing Experience
We are all for promoting our huskies and our team! We also want to ensure you know you can get a small taste of what it is like to be a musher when you visit us in Fairbanks, Alaska. Close to the Fairbanks airport, Trail Breaker has a number of tours, including dog sledding and petting puppies. Learn more about Trail Breaker or contact us today to start your mushing journey!