Enjoying The Summer With Our Sled Dogs
Summertime in Fairbanks at Trail Breaker Kennel means lots of tours and lots of love for our sled dogs and puppies! This summer, we have been lucky enough to partner with several new tour companies to bring their guests an authentic sled dog experience and an exciting look into the Alaskan dog mushing lifestyle. Guests from all over the world have the opportunity to visit Trail Breaker Kennel to cuddle husky puppies, experience an exciting training demonstration and hear authentic racing stories from our experienced staff of race mushers.
Meet Our NBA Alaskan Husky Puppies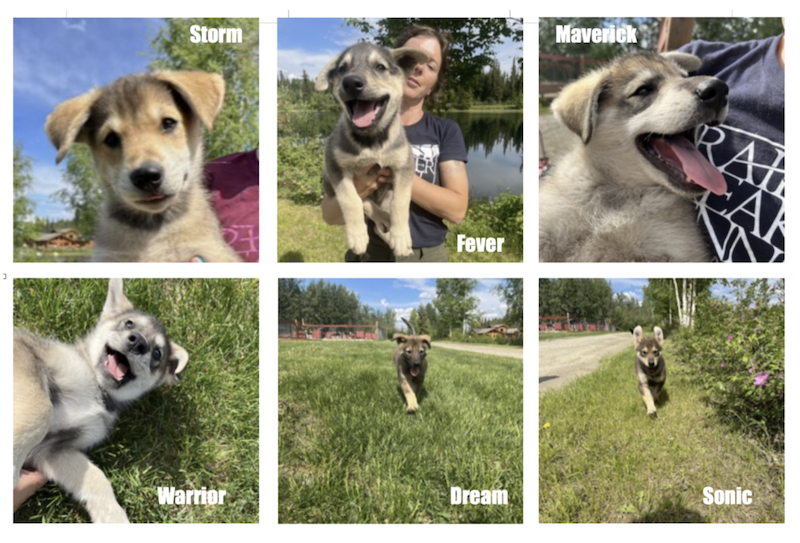 If you have been to Trail Breaker Kennel this summer, you probably met a litter of 6 adorable grey and brown sled dog puppies. These Alaskan husky pups, born to mother Jenna of Robinson Racing Kennel, were finally bestowed with names at 8 weeks old after much deliberation. We asked you, our online community, for name suggestions, and we were so excited by all the excellent responses! Thank you for helping us. As the puppies developed their personalities, we weighed our favorite theme options… and while the FRIENDS theme (Joey, Monica, Rachel, Chandler, Phoebe & Ross) was a close runner-up, we went with NBA teams. Take a look at how cute the puppies are!
Our Summer Stars Of The Kennel
While our puppies at Trail Braker Kennel are the cutest, they are not the only age group enjoying having guests visit us in Fairbanks this summer. At 1.5 years old, this is the first year in "show business" for the Chiska x Slim litter (Dale, Indy, Cushman, Farmer, and Steese). These guys have impressed staff and guests alike with their enthusiasm and maturity this summer. Just last winter, they were still goofy yearlings learning how to handle themselves in harnesses; now, they have become cool and confident 2 year olds who are excited to demonstrate their abilities daily for guests on the Riverboat Discovery Tour. This litter of yearlings will be graduating to training with the race pool this winter, and we are looking forward to trying them out in their first 100-150 mile race! If you are interested in supporting these youngsters in their first racing season, please consider sponsoring a sled dog for winter 22/23! 
A Special Summer Event In Fairbanks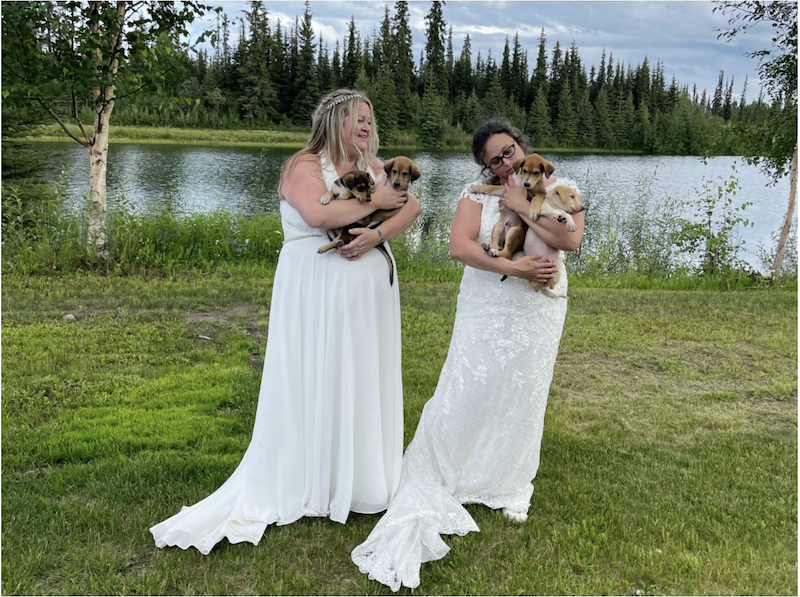 Finally, we are happy to announce that we hosted our first wedding on the kennel property this July! We are so excited to become a more active event venue in the coming years. This Fairbanks couple was blessed with a beautiful night to celebrate their love at the TBK pond.
After their ceremony, the newlyweds were greeted by their guests on the banks of the Chena River. From there, they went for a sled dog cart ride, which delivered them to the event tent for their reception! The children (and adults) in attendance were delighted at the presence of "wedding puppies," and by the end of the night, all dogs and humans were thoroughly socialized!
Book Your Fairbanks Event With Us!
If you are interested in hosting your next event at Trail Breaker Kennel, please reach out to us. We are excited to share our beautiful waterfront property and Alaskan lifestyle with our Alaskan community!