The Legacy of Dog Sled Racing Continues
For the past few years Trail Breaker has taken a brief recess from racing, but this season we are proud to announce that your favorite Trail Breaker dogs will be hitting the trail and competing in two mid-distance sled dog races! We'll have more details near the bottom, but first, let's dive a little into our past. We are proud to continue the legacy of dog sled racing from our founder, Susan Butcher.

The Foundation Of The Mushing Legacy
Kennel founder, Susan Butcher, ran her first Iditarod in 1978 at age 24. She finished 19th and with that finish, she became the first woman to place in the top 20. That race sparked a love for racing in Susan and she went on to run the Iditarod every year until 1994. Susan loved training Alaskan Huskies and saw her entire kennel of dogs as her family, but this maternal nature in Susan would not be satiated until she herself became a parent. Susan retired from competitive dog racing when her eldest daughter Tekla was born.
Fast forward a little, as Susan and David Monson were now raising strong, independent, and passionate daughters, Tekla and Chisana. They wanted to share their love of mushing with their daughters to encourage them to find their own passions. So as kids, Tekla and Chisana would go with their parents on training runs with the dogs, learning how to harness and hook up a team, and of course, learning about the importance of the trust and be trusted relationship.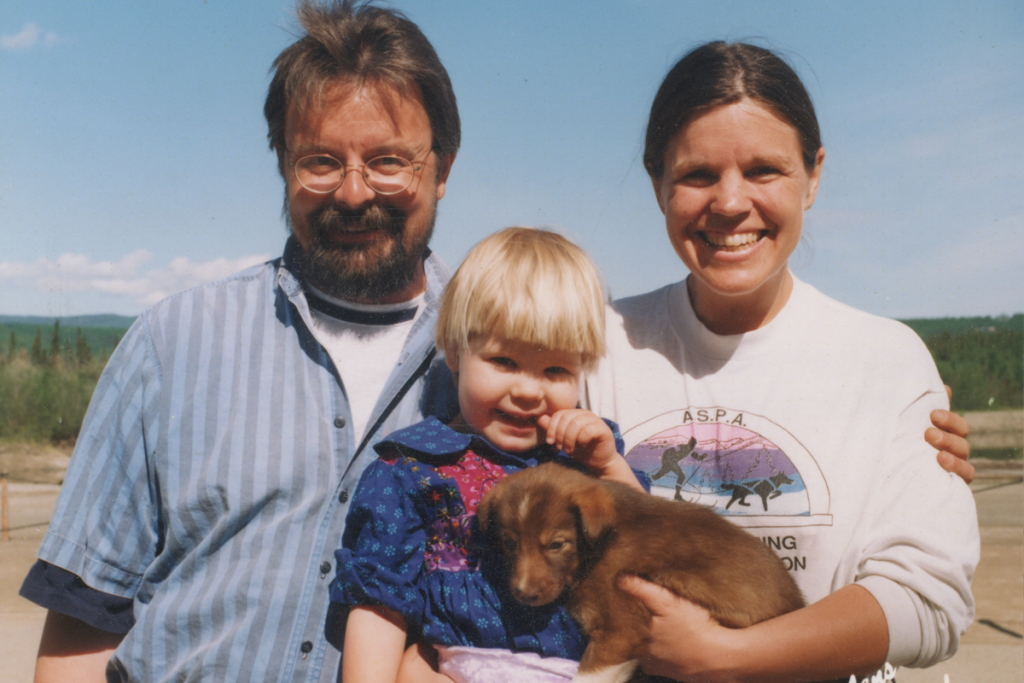 Growing Up In Alaska
Neither parent of the Butcher Monson household pushed their daughters to pursue a career as mushers. Susan wanted her daughters to find their own passions and share that joy with the rest of the world. Once the family moved from their bush homestead in Eureka to their Fairbanks kennel Susan enrolled Tekla in classes in The Arts: dance, music, and theater. She saw that Tekla had a creative spirit and she wanted to foster that love and encourage her the way she wished she had been encouraged to pursue her love of animals and the outdoors.
Tekla Monson grew up as a tough and rugged young musher, but also a creative and crafty child. She would spend the cold winter nights writing plays, knitting hats, and sewing quilts. When Susan passed away from Leukemia in 2006, 11-year-old Tekla threw herself into her artistic pursuits. She would make videos and write songs with her friends and family and became very active in the local ballet school. Losing her mother so young made Tekla a fiercely independent and confident teenager. At 14, Tekla decided to explore the world outside of Alaska by attending a boarding school in New Hampshire where she discovered her love of Theater. Even then, Tekla returned home every summer throughout high school to work with the sled dogs at Trail Breaker and share her mom's story with guests of the kennel.
Tekla's Time Away From Trail Breaker Kennel
Tekla grew into a young adult during her time on the East Coast. She developed a love for storytelling and tight-knit communities. She attended Wesleyan Univerity in Middletown, CT where she studied Theater with a focus on Set and Costume design. During trips home to Alaska, she would tell her friends and family about the adventures she was having. They often told her they saw the same light and passion in her eyes as they had seen in Susan's when she discovered dog mushing.
After college, Tekla spent two winters in New York City pursuing a career in Theatrical set and costume design. However, she noticed something did not feel right about living in the big city. She began to crave the large open spaces and rolling hills of her home in interior Alaska. As she helped her friends and collaborators in New York City tell their stories she realized all the stories she wanted to share were at home in Alaska. In December of 2019, Tekla packed up her room in Brooklyn and moved backed to Fairbanks.

Carrying On Susan Butcher's Legacy
Tekla managed and trained the Trail Breaker dogs throughout the pandemic winter of 2020. She was delighted to be home and knew her decision to move back to Alaska was the right one. Mushing through the rolling hills for their Eureka homestead, Tekla finally felt a place where she could let her joy for life settle. Although her schooling and traveling had given her joy and introduced her to the great passions of her life, Alaska would always be her home.
Last winter, Tekla was out in Eureka training the dogs with her friend and handler Kiana Korta. While there, Tekla began to contemplate how to keep Susan's empowering story alive for the next generation of Alaskans. In December they received news of a new 200-mile race that was going to happen the following March on the Denali Highway: The Ididn'trod. Having never competed in a race before, Tekla and Kiana decided to run the Ididn'trod together and give the newest generation of Trail Breaker dogs some race experience and continue the legacy of dog sled racing. Kiana and Tekla finished the race in 30 hours in 7th and 8th respectively with wind burnt faces, happy dogs, and a newfound love of dog racing.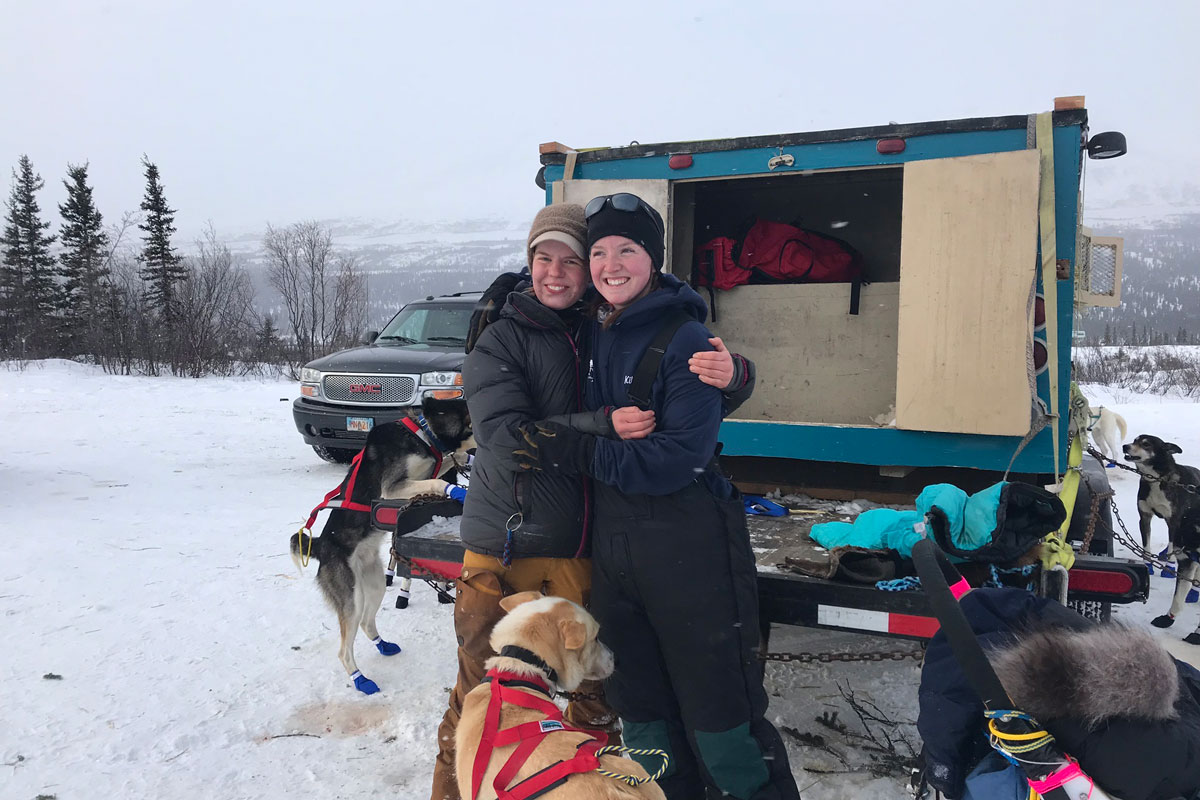 Dog Sled Racing Is In Full Swing
Now, back to our exciting announcement! This winter, the Trail Breaker Kennel dogs will be back on the race trail! Starting January 8th, Tekla will compete in the 300-mile Copper Basin. This is Tekla's first 300-mile race and is a qualifier for the 1000-mile Iditarod – she hopes to run the Iditarod in 2024 or 2025! On January 25th Kiana will be the one to hit the trail and compete in the Willow 300, another 300-mile qualifying race. Both mushers have been training the Trail Breaker huskies throughout the fall and winter in preparation for the January race season. Make sure to follow @trailbreakerkennel on Instagram and Facebook for updates from both mushers. We wish them happy trails as they embark on this next adventure!
Get Involved in Our Race Season
Out of 35 Trail Breaker Kennel sled dogs, Tekla and Kiana will choose just 12 all-stars to join them on the trail. Stay tuned for an announcement from us on social media with which dogs will be joining Tekla on the Copper Basin. Before that announcement, get to know all the Trail Breaker Kennel sled dogs here. Learn a bit about each dog's personality and what role they play at the kennel. And, if you're interested, choose your favorite to sponsor for the 2022 race season and become a member of the Trail Breaker Kennel team!