Meet the Mushers at Trail Breaker Kennel: Riley Dyche 
What is it like to be an Alaskan musher? That's a good question that we get a lot. Earlier this season we sat down with Tekla Monson to chat about her first sled dog race. Today, we are chatting with veteran Iditarod and Yukon Quest musher Riley Dyche, Trail Breaker Kennel's very own Kennel Manager.
Riley spent the first 18 years of his life in the small town of Farragut, Iowa. It wasn't until he went to college in Leadville, Colorado, that he was introduced to the world of sled dogs. In 2013, he moved up to Alaska and has since opened his own kennel, participated in countless mid-distance and long-distance races across the state of Alaska, and joined the team at Trail Breaker Kennel.
We caught up with Riley before the busy summer season to learn more about Alaskan Mushing from a musher's perspective in 2021! We think you'll learn a little bit more about Trail Breaker Kennel, Alaskan Huskies, mushing, Sled Dogs, and more!
What sparked your initial interest in sled dogs and mushing?
I grew up with hunting dogs and always had an affinity for working dogs, but it wasn't until I went off to college that I started working with sled dogs and learned about this lifestyle. That's where my passion for the sport of mushing began.
How long have you been with Trail Breaker Kennel?
I had heard of Susan and David's story when I moved up to Alaska in 2013. When I raced in the 1,000-mile Yukon Quest, I learned more about David's story. In the fall of 2019, I joined the team at Trail Breaker. I'm honored to continue Trail Breaker Kennel's legacy and have an opportunity to learn from the mushers here.
Who are other mushers you admire?
While training in Eureka this winter, Brent Sass (three-time Yukon Quest Champion) was a great friend and neighbor to me. He's a great musher, and I was fortunate to learn from and mush with him this year. Working at Trail Breaker has allowed me to learn more about David and Susan's philosophy. It's no shock why they are held in such high esteem in the mushing community.
What races have you participated in? Which are you planning to?
I have raced in both 1,000-mile races in Alaska: the Iditarod and Yukon Quest. I have also competed in quite a few mid-distance races: the Two Rivers 200, Old Mail Trail 200, and Copper Basin 300.
What is your mushing goal for 2021 and beyond?
My goal is to maintain a kennel of happy and healthy dogs. The time I spent in Eureka at the Trail Breaker homestead really benefited my dogs and me. They are a fast, strong, happy, and smooth-moving team. In the future, I hope to become a serious contender in the Iditarod. That is where all of the best teams in the world congregate, so I want to show that my dogs and I can hang. I'm fully aware that it's not an overnight process to get to that caliber, so I'm putting in my time and doing all I can to become the best musher I can be.
Anything else we should know?
I never grew up thinking that I would become a musher. But I'm happy I did! This career path has allowed me to share a mutual passion for mushing with my amazing canine athletes. I feel most at home when I'm on the trail with my dogs, exploring the great state of Alaska. I wouldn't trade this in for anything.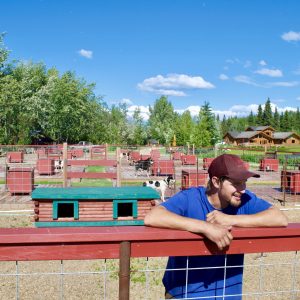 Keep up to date with Riley and our Sled Dogs in 2021!
Make sure to follow and like our Instagram and Facebook to keep up to date with what's going on with Riley and all of the mushers at Trail Breaker Kennel in 2021!
Meet all of us in Fairbanks, Alaska!
Trail Breaker Kennel is conveniently located a mile from the Fairbanks International Airport and 15 minutes from downtown Fairbanks. Learn about Alaskan Mushers and why we have so many 5-star reviews for yourself by booking your Alaskan tour with us!