Meet the Mushers at Trail Breaker Kennel: Tekla Monson
What is it like to be an Alaskan musher? That's a good question that we get a lot. Today we will introduce you to Tekla Monson, one of Trail Breaker Kennel's mushers who are about to hit the race trail.
Tekla Monson is the eldest daughter of kennel founders Susan Butcher and David Monson and is the Creative Director and Lead Tour Guide at Trail Breaker Kennel. She grew up surrounded by Alaskan huskies, spending the first years of her life at the Trail Breaker homestead in Eureka, Alaska. At the age of five, Susan taught her to drive her own one-dog team sled, and she has never stopped mushing. This March, Tekla will participate in her first mid-distance race, the 200-mile Ididn'trod Invitational.
We sat down with Tekla in between training runs to learn more about Alaskan Mushing from a musher's perspective in 2021! We think you'll learn a little bit more about Trail Breaker Kennel, Alaskan Huskies, Sled Dogs, and more!
What sparked your initial interest in sled dogs and mushing?
Tekla:  I grew up surrounded by sled dogs and mushing. There isn't a time I remember where sled dogs weren't involved in my life. But, growing up around sled dogs and mushing because of your parents is different than sparking your own interest. My interest in mushing and sled dogs began when I moved back home to Fairbanks in December of 2019. After spending a year and a half in New York City, I started to appreciate the lifestyle I grew up in. Living in a city really made me miss that.
How long have you been with Trail Breaker Kennel?
Tekla: My whole life! Throughout my childhood, I would watch my parents welcome visitors to the kennel on the Riverboat Discovery. Around age 12, I started helping out, spending my winters at school and summers working at the kennel. About a year ago, I moved back to Alaska full time and became TBK's Creative Director. It's been fun to get more involved with the business my parents started so many years ago. It's a new generation but still feels like classic TBK.
Who are other Mushers you admire?
Tekla: I am fortunate to have grown up as the child of Susan Butcher and David Monson because right there are two mushers I greatly admire. My mom broke barriers in the sport of mushing, showing that women could compete on the same level as men and win. People tell me how much my mom inspired them, which is amazing to hear because she inspires me too. This winter was my first time seriously training for a race, and my dad was a constant supporter. I grew up understanding that he was a musher, but it's been fun to see him talk about the details and specifics with me. I now know why he and my mom made such a great team.
What races have you participated in? Which are you planning to?
Tekla: In 2006 and again in 2012, I mushed 700 miles of the Iditarod trail with my dad and younger sister to honor my mom's legacy. While I wasn't competing, it was a great experience to get out on the actual trail, travel with the racers, and visit the communities and villages my mom stopped at numerous times throughout her career. This year I'm participating in my first mid-distance race, the 200-mile Ididn'trod Invitational.
What is your mushing goal for 2021 and beyond?
Tekla: I hope to finish my first race with a happy and healthy team. I'm not putting too much pressure on myself, as this is my first foray into competitive mushing, but I'm looking forward to getting out into the Alaskan wilderness with the Trail Breaker dogs.
Anything else we should know?
Tekla: More than anything, I love the hospitality along the trail. Coming together over some frozen trail snacks at a shelter cabin is my idea of a winter evening well spent. Dog mushing allows for this lifestyle, and it brings me so much joy to share these experiences with my fellow recreational and competitive mushers.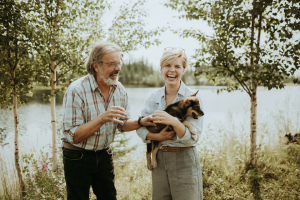 Keep up to date with Tekla and our Sled Dogs in 2021!
Make sure to follow and like our Instagram and Facebook to keep up to date with what's going on at Trail Breaker Kennel in 2021!
Meet all of us in Fairbanks, Alaska!
Trail Breaker Kennel is conveniently located a mile from the Fairbanks International Airport and 15 minutes from downtown Fairbanks. Learn about Alaskan Mushers and why we have so many 5-star reviews for yourself by booking your Alaskan tour with us!